Sensible Decisions, Inc. is proud to introduce our brand-new WIDE FIR Mini Mat.  It is a full ten inches wider than our popular mini mat pad. Because of the increase area, this new mat is perfect for wider bodies or sharing with your favorite pet!
Dogs and cats love it too!
The Charmed FIR Mat Wide Mini Heating Pad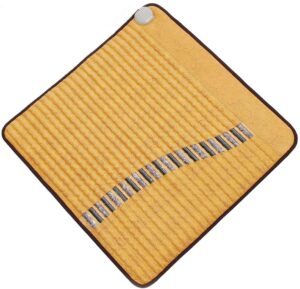 We have designed this new mat with comfort in mind. We assembled it with our flexible backing,  just like our popular mini mat. Our 17 layer technology contains small, tumbled, untreated stones encased in flexible tubes.
The Charmed WIDE Far Infrared Mini Mat is 31" x 30" and contains 13.5 lbs of amethyst and tourmaline stones. It produces radiant heat that effectively penetrates 4 to 6 inches into the body. Our far infrared heat mat contains amethyst stones, known as the best crystals for relaxation. Our design adds detoxifying, immunity boosting tourmaline. These stones generate healing negative ions.  As a result, they help soothe muscles, stimulate blood flow and cleanse tissues.
Enjoy total relaxation on soft surfaces, like a bed or sofa. Our infrared heating pad includes a manual, timer control button and a handled waterproof carrying case for easy transport!
As always, our FDA registered manufacturer continues to provide the highest quality mats we can offer and for a reasonable price.
We firmly believe better health can be achieved using natural methods, without harmful medications or pharmaceutical side effects. If for any reason you aren't happy with your far infrared heating pad in the first 30 days, we will issue a full refund.  Most importantly, we offer a 2-year warranty for purchases within the USA.
Find out more about this amazing product. Click here for more product information.